The brief descriptions below are designed to familiarize you with our staff's training, professional credentials and work experience.
---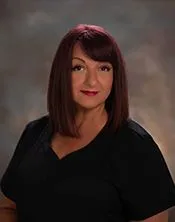 Donna Mikusevich-CEO
Former Laser Hair Removal and Medical Spas of Ohio
Donna Mikusevich attended Raphael's School of Beauty Culture and was licensed as a Medical Electrologist by the Ohio State Medical Board in Cosmetic Therapy and is a Certified Clinical Electrologist/Medical Assistant. She has 40 years of experience in hair removal and patient care as well as numerous certificates as a Certified Laser Technician for studies in laser and light based physics. Additionally, she is a member of the Society of Hair Removal Specialists, Surgical Dermatology & Skin Society, International Guild of Hair Removal Specialists and served a 6 year term as the State Treasurer for the Cosmetic Therapy Association of Ohio, which is responsible for legislating the revised code of ethics for laser and light based medical devices in the entire state. She was trained by the best in the country in the 1990's, and she remains current with evolving technology through continuing education courses in Clinical Electrology, Laserology, and the Medical Aesthetic Industry.
Our practice has evolved into a full service medical spa offering a variety of skin care procedures for today's every need. We provide full body laser hair removal for men and women and Electrolysis for permanent hair removal. We treat pigmented lesions, facial telangiectasia, spider and varicose veins. Our team of medical professionals provide medical and cosmeceutical grade state of the art services utilizing the latest technology. We offer everything from basic skin care to invasive injectables and everything in between.
Along with owner/operator Donna Mikusevich, there are 2 physicians on staff.
We always begin with a private no obligation consultation with the specific technician that specializes in the clients particular need. Everyone is important and treated with confidentiality. We carry a full line of Dermalogica products that meet EVERYONE'S skin care needs.
---
Nicholas Agnesi, MD
Medical Director
Aesthetics Injector
Dr. Agnesi has a large practice in aesthetic medicine where he encounters many needs. His concern for others goes a long way. He is mostly concerned about what really matters and listens intently to the needs of his patients. He has been helping patients look and feel their best for over 30 years by using the latest available medical procedures to help establish confidence and self esteem. Because of this, we chose to bring Dr. Agnesi into our aesthetics practice. He takes the time in his medical consultation to explain details. Every patient in our Niles office will see him as part of our protocol.
---
Constantine G. Econumus, MD, FACOG
Consultant/Asthetics Injector
Dr. Econumus is a well known practitioner in obstetrics and gynecology, with a large practice in 2 locations. His passion and love for his patients says it all! He spends most of his time listening to the concerns of everyone. He has a built in need to help which makes him perfect as a consultant for our aesthetics department. He truly wants to meet the ever growing needs of today's busy society, which definitely means their looks and what he can do to change what bothers you. Every patient in our Boardman office will see him as part of our protocol.
---
Jennifer Miller, RN
Facial Aesthetics

Jennifer is first a mother to 3 beautiful children who lives a very bust creative lifestyle. Her passion to serve others speaks beyond words. She has dedicated her career to facial aesthetics where she can strategically create the look you desire. She is ever expanding her love in this field with ongoing education in medical aesthetics and has various certificates of completion. She always spends much time with each patient prior to any service to ensure the best possible outcome.
---
Christian Michael
Advanced Medical Aesthetician
Christian is a graduate of Raphael's School of Beauty Culture and an Ohio Licensed Advanced Aesthetician and Instructor. He completed training at the International Dermal Institute in Brisbane, Australia, and became Ohio's first Skin Therapist awarded Dermalogica Expert Status.
In 2019, Christian was nominated as a Brand Ambassador for Dermalogica.
His love for Skincare and Education carried over from his former role as Master Educator, Spa Division, for all Raphael's School of Beauty Culture locations, to the spas Master Educator/Consultant. He works closely with our medical directors to obtain the latest state of the art results with each patient.
Christian offers an array of Advanced Skin-Care services for any skin type, and will complete a thorough consultation prior to treatment. His expertise speaks volumes.
---
Denise
Denise is a mother of twin girls, has a 25 year career in Dentistry. She started her own business in Permanent Makeup Application. She completed her training and certification through Beauty Angels Academy and we are so excited that she chooses to practice with us at Ageless. She continues to take additional courses and continuing education to add services and enhance her skills with the latest state of the art techniques. Denise loves to enhance natural beauty and has an eye for detail. Your first appointment will be a consultation to discuss your needs before services are completed. All procedures are custom to the patient's' unique bone structure to achieve symmetry and the most natural results.
---
Brooke
Brooke is a alumnae of Geneva College where she graduated with a bachelor's degree in Psychology. Her past position as Therapeutic Staff Support for Mental Health Services, allowed her to work mainly with Autistic Support rooms, but she is also able to work with any child that needs extra help.
Brooke, also, graduated from the Ohio Medical Electrology Institute where she studied different methods of permanent hair removal. This has been a passion of hers for a few years, and she loves being able to help people build confidence in themselves. She hopes to continue her Mother's practice for many years to come.
Currently, Brooke is a student at ETI Technical Institute studying to obtain a degree in aesthetics nursing.